About Us
Grand Father
Grandfather Amant
A chosen one from his father and mothers side, he was born in Au Cap in the north side of Haiti. He was from Lacour Dereale one of the oldest and most popular Lacour in Au Cap (still today). He moved from Au Cap to Bene in the south side of Haiti, where my great-grandfather passed all of his knowledge he had to him. Once he passed, Amant became a second-generation Houngan (Priest). Back then, Vodou wasn't what it is today. Everyone had to hide their spirituality. If the spirits decided to use your body as a vessel, you couldn't go to school, church or even outside your house because you would get teased and they would treat you like you were crazy. Even so, this didn't stop the spirits from taking my grandfather's body whenever they felt the need to intervene. It was always in order to help someone in need and he would be their counselor, guardian, fortune teller, protector, lawyer, doctor, leader and friend.
When he was 27 years old he moved to Cote de Fer a different town in the south of Haiti and a year later got married to St. Anne (my grandmother). On April 14, 1954, they gave birth to their first child, my mother (La Belle Deesse, Sr.). He started to teach her in the ways of the Lwa when she was very young. Whenever he held healing ceremonies, he would always make sure she was there.
On December 25, 1961 he died in Cote de Fer when he was only 35 years old. The moment he died, little seven year old La Belle, Sr. was at school in Fond des Blanc when she felt her head spinning. This was the beginning of a long journey for her as a spirit used her as a vessel and she walked 44 km (27 miles) from Fond des Blanc to Cote de Fer. The spirit which took her body was the Lwa Marinette. This was the first spirit to take her body and when she regained consciousness, she found herself back at home being informed of her father's death. The choice of the next "chosen one" was already done, La Belle Deesse, Sr. is the 3rd generation Mambo in our family line!
---
La Belle Deesse SR.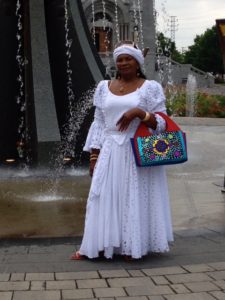 La Belle Deesse has been serving and working with the spirits for over 47 years. She is a 3rd generation Mambo Assogwe (High Priestess) and has spirits from her mother and father's lineage. She has been performing spiritual work for people ever since she was was just seven years old. Her spiritual mother was Mrs. Victor – Adieu Minfo Bon Mambo, the spiritual daughter of Agasse Gacon Bon Houngan. She was located at the Lacour Pon Sonde Numero 1 in Wanne 93 in Carrefour. She was one of the most well-known and respected Mambos in Carrefour in her time. La Belle Deesse became a Mambo Assogwe on July 18, 1984 when she was 33 years old. Her spiritual name is Soulage Minfo Bon Mambo. Unfortunately, the year after becoming a Mambo Assogwe, her spiritual mother died. She continues to pay homage to her by following the traditions of her mother's society. It's now been 48 years that La Belle has served the spirits and helped people spiritually worldwide.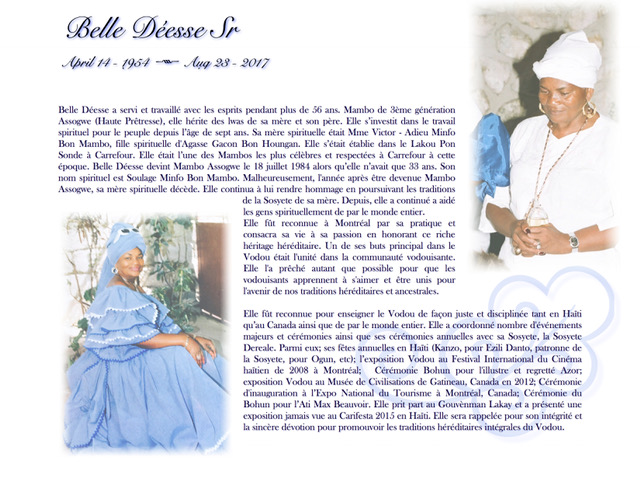 ---
La Belle JR.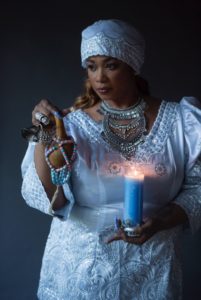 La Belle Deesse Jr., known spiritually as Lareine Edeyo Soulageminfo Bon Mambo and internationally as one of the most respected and sought-after High Priestesses of Hatian Vodou, is a fourth generation Mambo Asogwe (the highest form of female clergy in the religion). Her mother, grandfather, great-grandfather and La Belle Jr. herself were each called to serve the spirits and help others.
It all started at age 12 when the spirits began to vividly communicate to her through her dreams. She started working with her mother at 15 and one year later she was first used as a vessel for Mother Dantor, the mother of all of Haiti and synchronized with Our Lady of Sorrows. It was at that point that she knew she would be a priestess. She became a Mambo Sou Pwen at 19 and attained the rank of Asogwe at 25.
For 18 years she has served the spirits and has helped countless individuals around the globe. Together with her mother, they share a vision of showing the world all about the beauty, heritage and traditions of Haitian Vodou. It's a beautiful and very misunderstood religion.
The La Belle's have been featured in countless interviews on TV, radio and magazines. For updates, visit the NEWS PAGE or watch our videos on YOUTUBE.