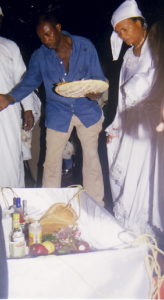 AGWE TAWOYO, DOMANYAN AGWE NEG KOKI DORE AGOUE, AGOUEH, AGBE
WHICH EVER WAY YOU SPELL IT. HE IS THE SEA GOD LIKE THE GODESS LASIRENE DIAMANT, THE KING OF THE OCEAN, ANOTHER GROUP OF ROYALTY DIETIES IN THE HAITIAN VODOU PANTHEON.
ESCORT / NATION: RADA
COLORS: WHITE, BLUE, AND SILVER
SYMBOLS: TRIDENT, FISH, DOLPHINS, HORSES, AND MIRRORS.
CATHOLIC COUNTER PART: ST ULRICK SOME TOWN IN HAITI USES ST RAPHAEL
Met agwe rules the sea along with la sirene (yemaya) one of the primary's rada spirits. Altar decorations for these two loa's have nautical and marines themes.
He is known under different names, he is very popular around the world. The god of the sea, Agbe in Yoruba, Neptune in roman mythology, Poseidon in Greek mythology and nechtan in Irish mythology. There were times he would ride his pearl shell chariot drawn by dolphins and sea horses everywhere he goes. Agwe has control of everything that has to do with and in the sea, the patron loa of fishermen and sailors. He's considered to be one of maitress ezili freda's lover, and the husband of la sirene diaman.
His envisioned as a tall white beard handsome mixed raced man with green eyes a very suave gentleman. Reserved subtle who commands respect with just one look understanding, patient yet you don't want to get on his bad side, because when he gets angry it can be very scary, lightning lots of it and earthquakes "earth shaker" he represents the tempestuous nature of the ocean waters.
In possessions he pushes himself around the temple or houfor on a small chair with an oar, shouting his commands and saluting everyone.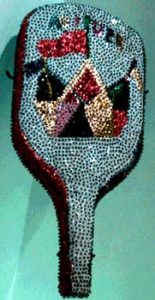 Offerings to agwe & la sirene is done in the sea or by the sea, it's also called (baq agwe) it's a constructed rafts which the devotees fill up with everything they can offer live animals, flowers, drinks, money, statues, champagne, white wine, white lambs, white ducks, bread, fruits, white ram, white goats, white cakes, chickens, sweet dessert, rice pudding, cookies, coffee, hot chocolate, watermelon, cantaloupe, florida water, pompeia, bien etre, loose changes, everything's being offered is a pair for him and her, even a white bull can be offered, and servitors would go in the middle of the sea to drop the baq and yes sometimes there's people who gets possess and most importantly we the vodouisants put our love and soul into the baq for our proud deity.
Like the elders used to say (loa se mister) loa is mysterious, well agwe and la sirene is the mysteries of the sea and the land that lies beneath its waves. Agwe amongst other loa's are a great mystery in Haitian vodou he is not known to ever lived on earth, one of the oldest spirits created since the beginning of time, a lot of non vodou believers might think of agwe and la sirene as a story or a fantasy, personally I don't think so no one still can tell me what's beyond the sky and the sea? We serve agwe and la sirene in Labelle deesse dereale vodou temple my mom was born in cote- de fer we live across the ocean, there's another town in Haiti that serves only agwe it's a town called lyly in the north.
I believe it's another world, one of the richest and beautiful place there is. Met Agwe does not get spiritually married as often as ogou and kouzin but he marries if your lucky enough to get asked for marriage, you are one of the luckiest woman on earth. Love him well. Believe in him no matter what. Have faith no matter what your challenges are in life. His days are Thursday and Saturday light your candles concentrate when you talk to him you'll see how wonderful he is.
A song for the king:
Agwe oh oh signin lode oh oh
Joum angage ma rele agwe oh oh
Agwe oh oh signin lode oh oh
Joum angage ma rele agwe oh oh
Agwe woyo mpa presse
Koki lanmem nan oh oh pa presse la
Gain yon kou deye papa map pare tan yo
Oh gain yon kou deye papa map pare tan yo…
Ayibobo!
Sou lanme ya mte ye move tan passé pawe mape noiye
Voye pale yo pou moin wa voye di yo pou moin ke kontant kon minnin chagrin gaiyin yon tan
oh oh na we oh oh eh eh eh
Gaiyin yontan medam na we yo eh eh eh
Sou lanme ya mte ye move tan passé pawe mape noiye
Voye pale yo pou moin wa voye di yo pou moin ke kontant kon minnin chagrin gaiyin yon tan
oh oh na we oh oh eh eh eh
Gaiyin yontan medam na we yo eh eh eh …
Imamou lele eh eh
Ko aniye
Imamou lele eh eh
Ko aniye
Agweta royo kap passé la, ko aniye imamou lele oh oh ko aniye
Neg koki lanmer kap passé la
Ko aniye imamou lele eh ko aniye
Neg koki doree kap passé la ko aniye imamou lele eh ko aniye…
Ayibobo