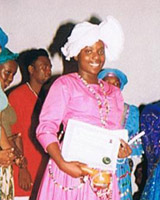 Location: Canada
Nom Vanyan: Patience Soulage Minfot Edeyo Bon Mambo
Mambo Sou Point
She's been serving the spirits all her life.
Labelle's 3rd child the first spirit that manifested on her was ogou feraille. She had her first possession in dec 8 2004 that day changed her life completely, the second spirit that possess her was grand bois. She had that experienced in dantors feast in aug 2006, at that moment she started to take her spiritual gifts more seriously, of course this is my version of her story.
Hello, I'm Raphny I was born in 1980 I was raised in a very spiritual family. I knew all the spirits names and songs and they loved me. In my life's journey, I felt I didn't invest enough in my spirits they've always been there for me thru good and the bad. By the time I was 16, I felt it was time to look towards my future with them in my life. I spent more time with my mom at work, I went more often to the feast, I addressed my spirits personally when I needed help.but at 26 I felt the need to be more connected to my spirits so I decided to answer they're calling, my mom gave me the biggest gift for my 27th birthday I became a mambo sou point,I was one of the second group of people at Labelle deesse hounfor to be initiated, there was 8 of us in total. My training started earlier because my birth mother is Labelle deesse and my sister Labelle jr, we went to Haiti where I met my 4 other teachers in my spiritual journey they came everyday to teach us something new we practice around 6 hours per day for about 2 weeks then the day came to enter the djevo, it was at night I was really anxious and exited but a part of me was afraid not of the spirits but I was questioning myself if I was ready, my heart felt right so I knew this is where I wanted to be in that particular moment. Once we were in the djevo whatever happened stays between the people who were present and my new sisters,(croix sou kem croix sou bouche moin) the day I came out I become a moim patience soulage minfot edeyo bon mambo, I carry my name, and both of my spiritual mothers name, the owner of my head is ogou feraille, I had 9 spirits manifested in me in my kanzo . it was my wonderful journey, I just can't wait for the next time when I will become a mambo assogoue daguinin minfor ! ayibobo, patience.