Initiation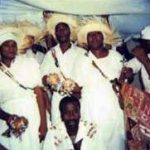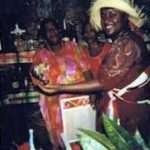 Mme victor!
The picture to the right is La Belle Deesse's spiritual mother, also known as Adieu Minfor Bon Mambo, pitit Agasse Gacon Bon Houngan!
This is a picture of her lever kanzo on July 18, 1984 with her brothers and sisters. Labelle believes in having a strong bonds with her spiritual family and some of her brothers and sisters are part of our society.
This was La Belle Deesse Dereale's first kanzo (initiation) in 24 years. Initiations werenít something she initially wanted to undertake because occasionally things donít turn out the way the ought to between a spiritual mother and child. She also felt that many people were trying to initiate for the wrong reasons – they wanted power instead of wanting to serve the spirits. Money canít buy spiritual faith nor the knowledge one must have. This is something that some individuals are born to do.
The two weeks that one must dedicate in order to be initiated is not enough time to obtain a lifetime of wisdom and knowledge. It first starts with being chosen, then takes lots of time, energy, patience, and most of all faith. As Mambos & Houngans (Priests & Priestesses) weíre only the middle men – the lwas are the teachers. They will teach us one step at a time as we prepare. The spirits are on their own time clock. This is why the elders are well respected in our religion – the longer you practice, the more knowledge youíll have.
Here at the Sosyete (Society) of La Belle Deesse Dereale weíre taking a new approach in order to help make Vodou culture and traditions grow for the better. Weíre helping those who are seeking to be initiated find a new family and have the experience of a lifetime.
Becoming part of our family is one thing, however, having a relationship with the spirit world is a lifetime commitment. Itís much more profound than you could ever imagine. Once you find the Sosyete that suits you, get a reading or consultation to see if they are able to tell you whatís going on in your life and which steps you need to take.
The first step towards the path to initiation is a head cleansing called a lave tet. A lave tet allows you to see clearly and the lwa are able to freely communicate with you through your dreams and intuition. You can feel and predict for others – youíre able to do readings. Itís the beginning of your relationship with the lwas. They are also able to use your body as a vessel with control (if the person decides to be a Houngan or Mambo). A head cleansing puts your spirits in place and youíll know who is the owner of your head.
There are other reasons beside initiations for someone to have a head cleanse.
The levels of initiations are :
Ounsi simple
Ounsi kanzo
Manman Rouyo : She's the one responsible for all the initiates inside
the djevo. (Altar room)
Agenicon : The person responsible for all the belonging of the spirits in the temple or perestyle.
La place(flag holder) : only Mambo Sou Pwen and Houngan Sou Pwen can
do La Place, some people can just choose to be initiated for the La Place positions.
Mambo Sou Pwen
Houngan Sou Pwen
Mambo and Houngan Assogwe, last level and the highest rank in Vodou.
Initiations start with being called by the spirits. The next step is to find someone or a Sosyete (Society) you feel from the bottom of your heart that you can belong to, allow your heart and the spirits to guide you to the best place. Not everyone is capable of initiating people correctly and there are a lot of fraudsters out there, so be careful and take the time necessary to get to know the sosyete or the hounfor you're going to initiate into.
Here at the Society of La Belle Deesse Dereale, we believe that initiations should only take place in Haiti. We don't support or recognize any initiation in any other place but in Haiti. You can't replace the roots of Haiti which are the roots of the spirits. There's nothing in the world that can replace the spiritual power we have in our country. I know a lot of you are probably saying if it's so powerful why is it in such turmoil? Because we won't put our heads together like we did in 1891.