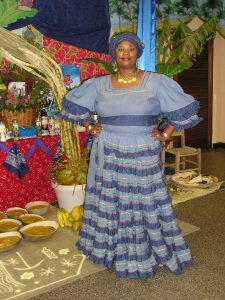 Location: Canada
Nom Vanyan: La Reine Edeyo Soulage Minfot Bon Mambo
Mambo Assogoue
La Belle Deesse Jr., known spiritually as Lareine Edeyo Soulageminfo Bon Mambo and internationally as one of the most respected and sought-after High Priestesses of Hatian Vodou, is a fourth generation Mambo Asogwe (the highest form of female clergy in the religion). Her mother, grandfather, great-grandfather and La Belle Jr. herself were each called to serve the spirits and help others.
It all started at age 12 when the spirits began to vividly communicate to her through her dreams. She started working with her mother at 15 and one year later she was first used as a vessel for Mother Dantor, the mother of all of Haiti and synchronized with Our Lady of Sorrows. It was at that point that she knew she would be a priestess. She became a Mambo Sou Pwen at 19 and attained the rank of Asogwe at 25.
For 18 years she has served the spirits and has helped countless individuals around the globe.